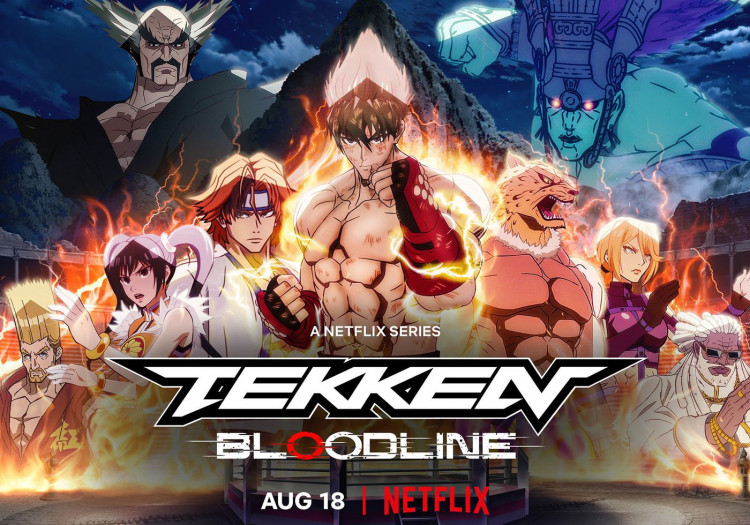 Tekken: Bloodline Anime Hits Netflix Next Month
Jesus Christ, at this point I'm getting concerned over how many of my posts are about Netflix. Still, like 'em or not, they're one of the biggest names in entertainment today, even in the anime industry. Even if their live-action adaptations are rarely (if ever) good, their strong roster of originals (like Devilman Crybaby and Dorohedoro) and animated adaptations (Castlevainia) have generally come out to better reception. Tekken 7 is like Castlevainia in the sense that it's a US-made anime based on a Japanese game franchise, clearly made by fans. Here's hoping it's just as good. 
Based on the long-running 3D fighting game, it stars Jin Kazama circa-Tekken 3, training for the King of Iron Fist Tournament with his martial artist oligarch grandfather Heihachi Mishima after an ancient god kills his mother. The first trailer looked close to the spirit of the games, with characters using the moves they're known for and looking like they're supposed to. There were a few liberties, like Tekken 7 newcomer Leroy showing up during the time of Tekken 3, but otherwise it's more faithful to the source material than Netflix's usual output. The latest trailer shows us a better look at the series, and that statement still stands up.
It's still jarring to me to hear everyone speaking American-accented English when the diversity of the characters is one of my favorite part of the games, and Netflix should really stop trying to make CG anime happen. But other than that, this feels exactly like what I'd expect of a Tekken anime. Heihachi is a ruthless mofo, Paul is a cocky asshole, Nina is cold, hot & deadly and Kazuya's Tekken 2-era villain phase looks like it could make for some interesting flashbacks. Julia looks like her Tekken 7 streamer thot incarnation rather than the Native American-style getup she had in Tekken 3 based on her adoptive mother Michelle, but she's cute as hell so I'll allow it.
It kinda reminds me of the Mortal Kombat: Scorpion's Revenge animated movie that managed to find a decent balance between character-based fanservice and abbreviated the story of several games into one movie. Since Bloodline is a series, it'd have more time dwell on each character rather than introducing them just to be killed off in one fight. Lke that shitass 2009 Tekken movie that did every character dirty, especially my boi Yoshimitsu. 
Tekken: Bloodline comes to Netflix on August 18, just a few weeks from now. Will you be squaring up or are you sidestepping this one? Let us know below!