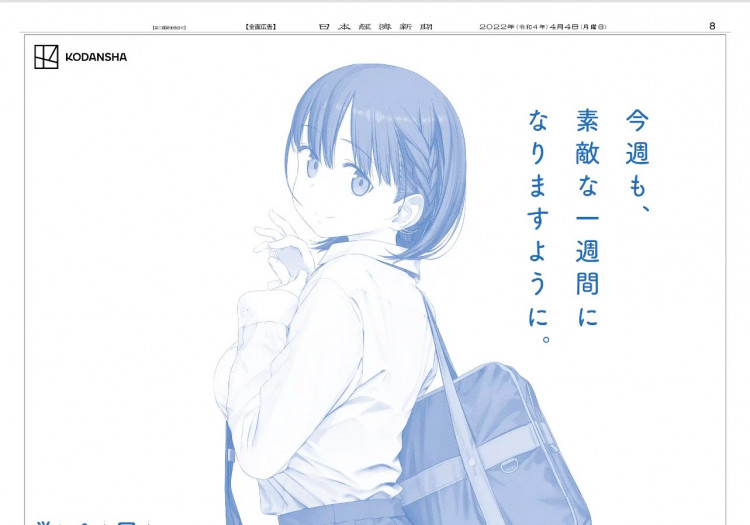 Manga Ad in Newspaper Sparks Controversy, Deemed "Unacceptable" by UN
One of the first rules of marketing is to know your audience. Manga publisher Kodansha thought to advertise their fanservice manga Tawawa on Monday's fourth volume with a full-page spread in The Nikkei, the world's largest financial newspaper, on April 4. The reactions to this ad got a lot more heated than Kodansha probably intended.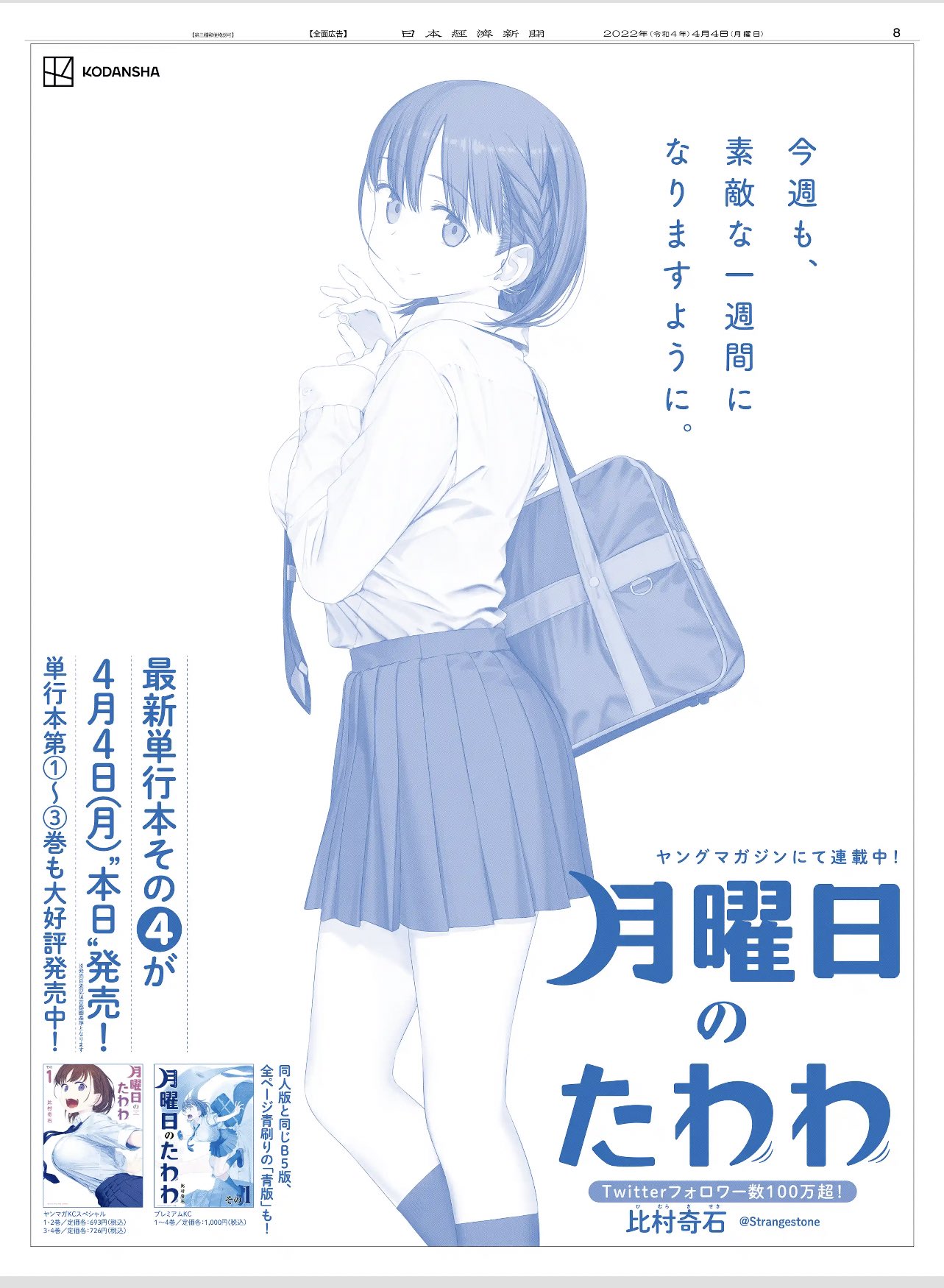 The ad is simply an image of the manga's main character Ai wearing a school uniform, with the text reading "I hope this will be a wonderful week" in Japanese. To most people it doesn't seem too risqué; her shirt is a little tight and her thighs are on display, but surely there are much worse ways to advertise a manga. Not according to the UN, apparently.
A week after the ad's publication, the United Nations Entity for Gender Equality and the Empowerment of Women issued a letter to the newspaper's parent company, Nikkei, inc., calling it "unacceptable" and inquiring why they chose to print it. Turns out The Nikkei is a member of UN Women's Unstereotype Alliance project, which aims to achieve gender equality within media and advertising while moving past stereotypes. Part of this scheme is The Nikkei's Women Empowerment Advertising Award, which is judged on three criteria beginning with P - Presence (of diverse people), Perspective (taking men's and women's views into account), and Personality (the subject should display independance). According to an interview with the Huffington Post, UN Women director Kae Ishikawa claims this particular advert falls short on all three counts.
She said: "Obviously, advertising a manga about a underage girl as a male sexual target risks promoting stereotypes that impose these roles on women." She also claims she spoke to a representative of the newspaper at the meeting who said the ad was approved at various stages and was not seen as a problem despite their links to the Unstereotype Alliance scheme. 
The Nikke's PR office told HuffPo they're aware of the controversy, but are choosing not to comment on it at the time, On the other hand, Kodansha said: "The advertisement was placed in conjunction with the release of the new book in order to attract new readers. We take your comments seriously and will give full consideration to the future development of our advertising."

Be careful where you print your adverts, people. What do you guys think of this? Is this really just a case of advertising to the wrong audience? Or is there something deeper at work? Let us know below!