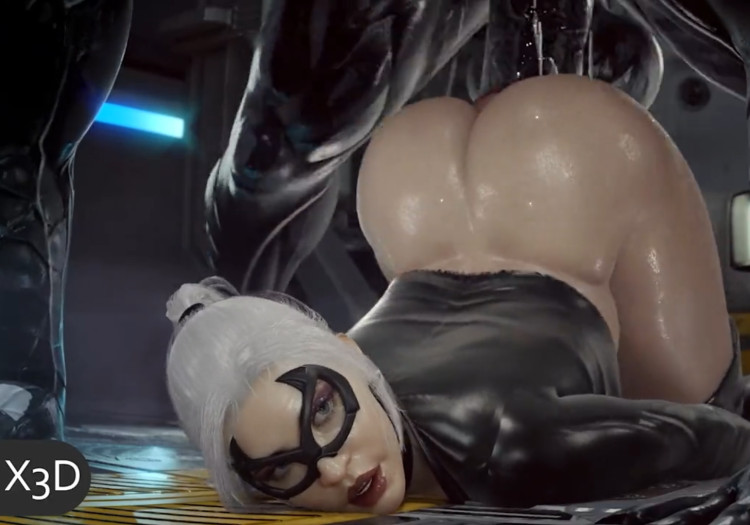 Black Cat Gets Pounded In X3D's Animation Miniseries
Spider-Man 2 continues to try and plague my feed with spoilers every day, but so far I'm relatively none the wiser. I'm still hoping to pick the game up this holiday season and that resolve was only hardened when I learned that my favorite girl from the series seems to make an appearance. I've always been enticed by Black Cat's tempting antics, and let's just say she made me pick some symbiote-aligned choices in Spider-Man: Web of Shadows. Speaking of symbiote, it looks like animator X3D has been hard at work over on Twitter. In fact they've produced an entire six-part miniseries of Black Cat's sexual adventures with a certain venomous individual.
The sixth entry was their last installment and my personal favorite. I went back and watched all the parts and I think it was clear to see the videos and animation quality improve with each release. Since the game is the talk of the town right now and this project just ended, I thought it was the perfect time for a little spotlight of Black Cat getting her pussy pounded. She's always been my favorite of the women in Spider-Man thanks pretty much to her sexy design alone, though the sassy attitude only elevates her appeal in my eyes. These days there's no shortage of Gwen lewds on the Internet so it was nice to see a different character take the stage for a bit thanks to X3D. You can check out their Twitter here to see their updates and projects, or check out their Patreon here if you want to support them and gain access to additional benefits like different file versions and higher quality resolutions. 
Time for me to swing away on some webs before the spoiler thugs come into town. That being said X3D is definitely going on my list of creators to check in on from time to time. Are you playing Spider-Man 2? Do you think Black Cat is underrepresented? Have you seen an animation you think deserves a spotlight lately? Load up your web cartridges, dawn your suit, and swing through New York in the comments below!